Welcome to the Engineering Entrepreneur Podcast, run by CADdesignhelp.com
***If you are enjoying the podcasts, it would help me tremendously if you left me a review on Itunes. You can do that through this link. (You need to have the Itunes app on your computer to leave a review)
Have you invented or created something that is making you money? Then I would love to talk to you. Please email me at [email protected] and I will consider you for a podcast slot.
You can download the podcast on all major apps, including Itunes
Episode List
ATTENTION: new episodes (started at 78) are now on the blog page
***Starting 11/14/2016, we are going to start posting the latest podcast at the top of the page
Automatic Ocean Cleaning Device, The Seabin Project – Pete Ceglinski – Ep77
Peter Ceglinski  is the CEO and Co-founder of the Seabin product and company. The Seabin is a floating trash can that skims the surface of the water.
Peter's background is he is trained as a product designer with experience in injection molding.
The inspiration for his invention came from the thought: If we have trash cans on land, why not put them in water
The device works but skimming plastic pollution and marine liter in the water from the surface, pulling it into the bin.
We discuss many aspects of the project, from technical to funding to intellectual property (they are patent pending in 7 countries including the United States).
If you are interested, they are taking on investors now. For a low amount of money ($250 minimum), you can be an equity holder in the company.
Number one tip: if you got an idea, and you want to do it. Go for it, but make a plan and save your money
Contact info:
Email :

[email protected]
CADdesignhelp.com Top 5 Projects 2019 – Scott Tarcy – ep 76
Changing things up this week, no guest. Instead, I reviewed my 2019 and picked my top 5 most interesting and unique projects I worked on. In summary they are:
Candle Project

3D printed a mold to then make a silicone mold. A mold for a mold if you will
Wax is poured into silicone mold
Key lesson: make alignment keys too small

Exercise Device

Ab roller, foam roller and pushup bar all rolled into one
Ability to lock rotation
Used expanding foam
Key lesson: use silicone mold for making foam parts. Getting foal off PLA plastic is a major pain

Hood Exhaust

Air filtration fire trucks
Need to test removing and reinstalling the air filter tube 100,000 times
2 tables from 8020 Aluminum extrusions
Designed in solidworks
Built and tested
Key lesson: used 3D printing to create some missing parts on the install day

Gnome Head

Xmas gift. A woman wanted her friends head on the body of a gnome
Use photos to create head in 3D (used Maya). Scanning not an option due to her being too far from me
Used Grabcad.com to find existing gnome 3D model
Combined the head STL and gnome STL in blender
Created breats on the gnome to make female version
Key lesson: 3D printing this: SLA print much better result than FDM print

Squash Racquet attachment

Created 3D model of squash handle by measuring physical part
Used client images to create cad file
Device is a training aid to learn correct grip
3D printed a mold to make the prototypes
Key lesson: to get a silicone part to hold onto something (like a grip) you want to design for about a 10-20% interference fit
Incredible invention: Control Your Stuff Just by Thinking About it– Ian Rowan– Ep75
Ian is the inventor of one of the world's smallest EEG wearable devices, Nurio. Ian has deep interest in all thing's technology, especially Artificial Intelligence and its implications for the future of health. 
Nurio is a tiny electroencephalogram (EEG), a tracker that can record brain waves. It's no bigger than an earpiece, all you need to do is think about a command to make it work.
You can use this device to control any internet connected device, like your TV, your Amazon Alexa and so on.
We get into discussing exactly how this works and how Ian was able to create such an incredible product, as well as his background and how he learned everything he needed to create this on his own.
Ian's number one tip: Anything that you find yourself learning – take it all the way to its core.
Contact info:
Linkedin: Ian Rowan
Email: [email protected]
Website: http://www.nurio.info/
How Inventors can Succeed with Ecommerce – Rick Watson – Ep74
Rick Watson is an eCommerce entrepreneur and operator based in New York City who, after spending the last 20 years in the industry, recently founded his own business , RMW Commerce Consulting ,where he helps companies launch new initiatives with strategic business advice. 
In particular, he spends a lot of time focused on companies in the supply chain and marketplace-related areas of eCommerce.
Rick and I discuss how inventors can succeed in selling online. As an inventor myself with over 20 products on Ebay, Amazon, and Etsy, I can attest to the challenges, but I also understand the benefits.
Rick's number one tip
Follow the pain. If you are in online commerce, search reviews for consistent feedback and look for areas to improve
Listen on twitter for info on your category
Contact info:
Website: Rickwatson.io
Email:

[email protected]
Simulation Software – David Heiny – Ep73
David is Co-Founder and CEO of SimScale. SimScale is a web-based simulation platform bringing together CAE (computer aided engineering) functionality, content and people.
Simulation is an engineering technique where a computer will approximate a situation, like the airflow through a heat exchanger or the load bearing ability of a bridge. These softwares are very powerful and can accurately predict many situations but up till now, owning the software and hardware required to run simulations was very expensive.
Simscale solves this issue by bringing simulation to the cloud. Much like Onshape has done with CAD software, Simscale is doing with simulation. Essentially you would be renting their computers/software to run your simulation. Additionally, Simscale has many great engineers to help you set up your simulation correctly.
Lastly, David and I discuss the technical side of how simulation works.
If you want to learn more, please go to:
Trademarks, Everything You Need to Know – Suzi Hixon – Ep72
Suzi Hixon has been a trademark attorney and trademark creation strategist for 15 years. She has managed the trademark portfolio of a Fortune 100 company, as well as numerous small businesses and startups. She focuses on strong brand name creation ~ from both the legal and marketing perspective.
Suzi now runs her own company, helping individuals with their trademarks and branding. We discuss trademark protection in other countries, private labeling, and how NOT to pick a trademark.
Many people pick bad trademarks, based on a name that describes the product. Suzi says that if you have a new type of product, you want to pick a generic name and a brand name. For example, Band-Aid Bandages. Band-Aid is the brand name, and bandage is the generic name.
Suzi's top tips:
Nothing stays the same, you want to pick trademarks that registers with customers
And you want names that are pronounceable
Contact info:
Suzi's web course: trademarkquickstart.com
website: https://www.theprivatelabellawyer.com/
Twelve ways to make a Prototype with Xometry – Greg Paulsen– Ep71
Greg Paulsen is the Director of Application Engineering at Xometry. He is an expert in helping determine the best-fit manufacturing process for customer projects and discussing design-for-manufacturing for over 12 different manufacturing technologies from precision machining to 3D printing
Xometry is a manufacturing marketplace that provides instant pricing, lead times, and manufacturability feedback for custom parts in real-time through its website.
In our discussion, we go into the specifics of many of these processes, like Direct Laser Metal Sintering (DLMS), 3D printing SLA elastomers, FDM printing, Carbon 3D printing, HP Multijet fusion, and urethane casting.
We also discuss the business side of Xometry and how they use the same concept as Uber: utilize capacity of people and business who have the machines to make prototypes.
Greg's number one tip: If a manufacturer does provide feedback, it's not a critique of the part. They just want to make the best part they can for you.
Contact info:
Email: [email protected]
Check out Xometry's 3D printing service and CNC machining service today
How to Patent an Invention – Alex Hobson – Ep70
Alex Hobson is founder and president of Invention To Patent Services.  He is also an inventor being listed on more than 20 U.S. patents.  He has more than 20 years of experience.
I've had other patent agents on the show before, but Alex is a little different. Alex was first a mechanical engineer and actually worked at a same company that I worked at before (WLGore.com, the Goretex company).
He started writing his own patents while at Gore and learned enough to change careers and go on his own writing patents.
We cover all topics of patents including allowance rate, priority date, difference between a patent agent and patent attorney, provisional patents, and more. If you are new or even experienced inventor, this is the show for you.
Contact info:
Email: [email protected]
800-634-0605
Autodesk, AutoCAD, and Fusion 360 Engineer – Bryce Heventhal – Ep69
Bryce Heventhal is the Sr. Technical Marketing Manager for Fusion 360. He has 9+ years of CAD, FEA, and generative design experience, with a B.S. in Mechanical Engineering. When he is not designing, he is out rock climbing.
Bryce started his career as an Applications engineer for a Solidworks reseller. He said that 80% of cases were installation issues and boring stuff.
CAD has come a long way over the years and we discuss how we both worked with old drawings to make 3D models. It amazes me that anyone could build a product at all before the modern CAD we have today.
Now Bryce works at Autodesk, specifically in the Fusion 360 technical marketing area, making tutorial videos on YouTube.
Fusion is a very interesting platform because it integrates with all the various Autodesk products. Solidworks only performs BREP forms. For example, if I receive a mesh file from a client, I typically must use a program like Blender first to get the polygon count to a manageable amount. In Fusion, you can work directly on mesh files and then go right back into traditional modeling.
Contact info:
Email: [email protected]
Twitter:  @BHeavyy
3D Printing Advice from a Formlabs Engineer – Andrew Edman – Ep68
Andrew Edman is an Industry Manager for product design, engineering, and manufacturing at Formlabs.
He previously owned his own design company where he met the founders of Formlabs early on.
Andrew looks for use cases for 3D printing. One such example is at Ashley Home Furniture. He found uses such as using a 3D printed fixture that weighs much less and is faster to change over compared to their traditional machined fixture.
If you own a Formlabs machine, this podcast would also give you some inside info on some of the materials. We discuss specific use cases for the various materials.
Another part of our discussion was how to make silicone parts. Andrew used to work at Reynolds Advanced Materials., which is a company that makes silicone material. Typically, I will 3D print a mold and use that to form the silicone part.
Contact info:
Emails [email protected]
Linked profile: https://www.linkedin.com/in/andrew-edman-5434a621/
The Wheelchair Mountain Bike – Bowhead Corp (Chris Bagg and Will Gill) – Ep67
23 years ago, Chris Bagg broke his back snow boarding. Chris was very into outdoor sports and wanted to continue his activities as a parapalegic.
Chris built his own custom wheelchair first. He needed this because all the stock chairs were too small for his 6 foot 8 inch size.
Next, he started working on his off-road wheelchair bike. He "modeled" the bike first using paper and foam, just to work on the concept. Then he started getting prototypes made from using Solidworks and creating waterjet cut parts.
Chris later brought in a Solidworks expert and engineer Will Gill. This is when their company Bowhead Corp was born. They now have a few products such as the Bowhead Reach and the Bowhead Traveler. You should go to their website and check out their pictures and videos in action.
You can reach them at:
https://www.instagram.com/bowheadcorp/
The Wonder Wallet Invention – Alan Beckley– Ep66
Alan Beckley is an entrepreneur, inventor, and podcaster.
His degree is in aerospace engineering but worked a lot of his career in project management.
In 2012, he hit it big with an invention of his, the Wonder Wallet.
Today he continues to invent but also but also focuses on helping other inventors to succeed with his website alanbeckley.com, which has webinars for inventors, online courses, and his podcast, called Inventors Helping Inventors. 
Alan and I discussed in detail exactly how he went about inventing his product, from initial idea to the final licensing deals with As Seen on TV and Direct TV and retail sales.
Alan's number one tip:
Do you due diligence. Inventors often don't do enough patent searching and Google searching to see if their product already exists
You can contact Alan at:
972-989-1002
Serial Inventor, Entrepreneur and Daymond John Business Partner – Mike Watts– Ep65
Mike Watts is a serial entrepreneur who has started 6 product-based companies totaling over $50million in total sales. Mike is currently serving as Founder and CEO of LoveHandle, who manufactures patented custom-printed smartphone accessories and is a partner of Daymond John from Shark Tank.
Many listeners of this show are inventors and Mike took a slightly different approach than many inventors. Mike started out by partnering with an inventor of a lawn/garden product and manufacturing that inventor's product, in return for giving the inventor a royalty.
After that product, Mike has created a smart phone accessory that makes it easier to hold your phone. The brand name is called Lovehandle (www.lovehandle.com). Daymond John (from Shark Tank) discovered his product and was so impressed with it that he contacted Mike and they have since partnered up to do business together.
Mike's number one tip:
Seek out wisdom from those that have done it before
You can contact Mike at:
Instagram: @mikewattsceo
Product Lifecycle Management (PLM) – John Laslavic– Ep64
If you are an engineer at a mid to large company, you are well aware what PLM is. But if not, hopefully this episode will teach you a few things.
Product Lifecycle Management (PLM) is how companies organize the process of creating and modifying products. Traditionally this applied to just the CAD data itself. This is important because if multiple engineers are working on a file, the system will keep the data organized so that everyone knows what the latest revision is and the status of the project (is the CAD in process, under review, or ready for tooling, and so on).
John is the CEO and founder of Upchain.com. Upchain is changing PLM by organizing the entire supply chain, not just the CAD data. This makes the entire product management smoother. After the CAD is done, other departments still have work to do like getting quotes for tooling. Upchain organizes this process.
Contact info
The Business of Bioscience – Susan Goebel – Ep63
Susan is what I call a Bioscience Entrepreneur. She went to college for Biology and her first job out of school involved creating displays in museums, but these aren't your average displays. One display she worked on was the structure of the human heart, using an actual heart!
She then worked for a while in the animal health industry.
But this type of work was not for her, so she moved onto entrepreneurship.  Using her experience in animal health, she started her own company for animal health. Some advice from me hearing this story is that if you want to start your own business, one of the best ways is to get a job/apprenticeship and learn while working for someone else, as she did. My story is the same, I worked for 10 years for large corporations before starting my own business as a design engineer.
One of her top products she helped make was a vaccine for cattle for Ecoli, but the purpose of the vaccine was to prevent Ecoli from affecting humans further down the food chain. This is a fascinating series of cause and effect that makes you really appreciate how everything is so connected.
Susan's company also has worked on immunotheraputics for cancer, specifically bladder cancer.
Her company also works with companies as a strategic partner to get government funding, get VC capital, and help with the regulatory (FDA) process.
Susan's top tips are:
Check your assumptions. Make sure you know what your assumptions are and make sure they are correct
Business planning – don't dismiss it
You can contact Susan by email at [email protected]
From Aerospace Engineer to Entrepreneur– Amy Simpkins – Ep62
Amy Simpkins is a speaker, author, and thought leader in innovation and the CEO of renewable energy startup, muGrid Analytics. She's an MIT-trained aerospace engineer who caught the entrepreneurship bug and loves facilitating massive leaps forward for individuals and organizations.  She's recently published her book, Spiral: A Catalyst for Innovation and Expansion and believes that innovation is for everyone and holds the key to both personal fulfillment and lasting global change.
We discuss Amy's journey from her days as an engineer with Lockheed Martin to her current role as CEO of muGrid.
At Lockheed, Amy worked on projects like low earth orbit satellites and acoustic vibration issues in astronauts' ears.
Amy wanted to move into entrepreneurship, so she left Lockheed. She had a few failures, as most entrepreneurs do when they first get started. But now she has a book published and is successfully running muGrid Analytics.
MuGrid is a renewable energy business that creates custom energy storage solutions for private companies and municipalities.
You can contact Amy at:
This week's show is sponsored by Gusto
Everyone loves payday, especially engineers. But loving a payroll provider? That's a little weird. Still, small businesses across the country love running payroll with Gusto. Gusto automatically files and pays your taxes, it's super easy to use, and you can add benefits and HR support to help take care of your engineering team and keep your business safe. It's loyal, it's modern — you might fall in love yourself.  Listeners get three months free when they run their first payroll. Try a demo and test it out at gusto.com/ee. That's gusto.com/ee
Asset protection for entrepreneurs – Scott Smith – Ep61
This episode focuses on some important business aspects of being an engineering entrepreneur: things like asset protection, insurance, and tax strategies.
Scott is the founder of Royal legal solutions. His company specializes in asset protection for entrepreneurs. This includes what insurance to get, how to best structure your business for tax savings, and what to do when you get sued.
Scott and I discuss these 3 topics. Starting with liability, a good option for entrepreneurs is to set up 2 companies:
Asset holding company – separate LLC that holds everything
Shell company –runs operations of the business
Then we discuss retirement savings, specifically the details of a Solo 401k
Finally, we talk about lawsuits and what to do if you get sued.
Scott's top tips are:
Use a 2-company structure
Set up a solo 401k
wrap up everything in estate plan (living trust and will)
You can contact Scott at:
512-757-3994

Lean Manufacturing and Lean Startups – Jason Burt – Ep60
Jason Burt is the owner of Evolve Holdings, which is a consultancy that focuses on teaching and applying the principles of Lean Manufacturing.
Lean Manufacturing started off as the Toyota production system and centers around a continuous improvement culture and taking waste out of the manufacturing process. The first half of our conversation is about lean manufacturing and some examples.
The second half of our talk is about the lean startup philosophy. The lean startup is about not wasting time adding features to a product without first testing to see if anyone wants those features. What you want to do is create a MVP (minimum viable product) and test with customers before putting more work into it. And when you get feedback from customers, you want to revise the product accordingly and test again.
This is where 3D printing can be helpful, as it is very cost effective to edit and create a new version of a product.
Contact info
Website ehiipconsulting.com/engineeringentrepreneur
From Gear Head to Group Head – Paresh Shaw– Ep59
Paresh is a mechanical engineer who founded Enginpreneur Academy, which is a course to transform engineers into innovators, entrepreneurs, and inspiring leaders.
He also runs the nonobviouscompany.com, which is a training company that addresses the 6 biggest challenges companies face today, like disruption and innovation, believability crisis, and passive loyalty.
Our talk focuses mainly on how engineers can improve their people skills to move up in their jobs. Most engineers have pretty good technical skills, but often lack in their ability to lead others and communicate effectively. You could throw me into that group up until a few years ago when I started my own company and had to learn how to manage people.
We joke that before I was simply a "grunt" (my words, not Paresh). But it was true, I simply did whatever job my boss told me to do. I didn't act as a leader or show much initiative.
We talk about many ways to improve these skills. Paresh says there are "7 deadly blind spots" that engineers have that become career limiters. We discuss these and ways to overcome them.
To learn more and contact Paresh, please see links below:
Finance your Inventions – Matt King– Ep58
One of the most important things to take care of in the invention process is figuring out how to pay for all the steps needed to get your product to market. Unless you have a trust fund or a high paying job, you will likely need help getting your product to market.
It will take thousands (if not more) dollars to go from idea to final product. Costs will include CAD design, prototyping, market testing, advertising, production and so on.
Matt King is an expert in helping entrepreneurs get the funding needed to start their business. He runs Titan Consulting, located in my home city of Charlotte, NC.
In this week's podcast, Matt and I talk about the right way to go about getting funding. To put simply, you should not go from your napkin sketch to trying to raise $20M. There are many steps before that and we discuss how to do it with practical examples.
You can contact Matt at:
Email [email protected]
Phone number 704-231-8152
Creating Software Products – Jay Gibb – Ep57
Jay Gibb is a software engineer, but he is also an entrepreneur. He has started 2 companies, Arizona Bay and Cloudsponge (links are at the end).
Arizona Bay is a consulting firm that builds custom software. Cloudsponge is a digital asset (a product) that makes it easy for people to recommend your website to a friend. The easiest way to explain it is, imagine you just booked a place on Airbnb and want to recommend it to friend (or all your friends). Most websites have a place where you can type in each and every name, but good luck remembering all your friend's email addresses. Cloudsponge solves this by integrating with your address book and you can simply click next to each name you want to send the Airbnb listing to.
Jay and I discuss how each business operates and how he came up with the idea for Cloudsponge. His advice: the best products come from solving your problems first and finding out many other people have the same problem.
We also touch on machine learning, which I didn't know a lot about previously. Cool stuff!
You can contact Jay at:
The Patent Process Explained – James Wilson – Ep56
This episode is one that you inventors out there should definitely listen to. Most people know what a patent is but not many understand the process it takes to get one.
In this episode I talked with James Wilson from the United States Patent and Trademark Office (USPTO). James is the Assistant Regional Director of the Elijah J. McCoy Midwest Regional Office in Detroit.
We talk about the entire patent process, from idea creation to provisional patent, to non-provisional application and the review process. We uncover all the details inventors want to know, like costs, time frames, and the process.
There are some links from the podcast I will add once I get them from James. But those will be for the resources he described including how to get assistance on patent applications.
James' parting advice is that the UPSTO strives to be one of the best government entities and that they are looking to hire more examiners. So if you are a professional with a technical degree, there might be an opportunity for you at the USPTO.
You can contact James at:
313-446-4800
Innovation Freak Podcast – Nathan Kemmerer – Ep55
It's not often the title of my podcast is about another podcast, but that is the case this week.
Nathan Kemmerer (also a mechanical engineer like me) runs the Innovation Freak Podcast, which is a podcast that covers new innovation/technology around the world that has a positive impact.
Some of his episodes cover topics such as:
Trash collection machine in the Baltimore bay
Open sourced 3D printed prosthetic hands
Airwolf 3D printers
Nathan also has some 3D printers of his own that we discuss, including the CR-10 and Tevo Tarantula.
You can contact Nathan at:
The Dadsak Invention and the Startup Bus – Jeremy Losaw – Ep54
Jeremy is the engineering director for Enventys Partners. He just got back from Startup Bus where his team, Sak Labs placed 2nd in the competition with the Dadsak, the world's first fully integrated infant carrier and backpack diaper bag.
I have worked with Jeremy on quite a few other projects.
In this podcast, we talk about the Dadsak invention and the Startup Bus. We cover many topics that will be of interest to inventors, including initial concepts, prototyping, provisional patents, and pitching investors.
You can contact Jeremy at:
Other links mentioned:
How Does 3D Scanning Really Work? – Matt Holling – Ep53
Matt Holling is the engineering manager at Dezignworks. His company specializes in reverse engineering using both laser scanning and bridge CMM. If you don't know what that is, listen to the podcast, we go over it.
Matt and I have done a lot of work together. While there are many ways to reverse engineer a part, laser scanning is becoming one of the most popular ways and I am often having him do this for me. Once I have the model, I can make edits to the model (add holes, threads, mirror the part, etc).
One major misconception about 3D scanning is that you simply scan a part and instantly have a usable CAD file. The reality is far from this, as the scanner itself only creates a point cloud file. We go over ALL the steps needed to go from the scan, to an STL file, and finally to a fully defined Solidworks file. His company has created a proprietary Solidworks add in to do this work, and the software is impressive (the software also works on Autodesk products).
You can contact Matt at:
website: Dezignworks
From 3D Printed Dive Masks to Business Development Lead at Formlabs – Ryan Turk – Ep52
Ryan Turk and I first met about 3 years ago on Upwork.com. He was looking for an engineer to assist in his new business venture. His idea was to create custom dive masks using 3D scanning and 3D printing.
He ended up hiring another engineer, but he did successfully make custom masks. We talk about how he accomplished that, through 3D scanning, using Geomagic software to process the scans, and 3D printing the molds for the masks.
Even though he could create the masks, the business opportunity is not quite there now. The costs are too high given the price point he can get for the product. So, for the time being, Ryan has changed paths by taking a job at Formlabs. He is working as the business development lead on mass customization. His new role is the find opportunities in the market to use 3d printing to make end use parts, not just prototypes.
You can contact Ryan at [email protected]
The Million Dollar Collar Invention – Rob Kessler – Ep51
Five years ago (2013) Rob was getting married in Jamaica. Everything went well except when Rob saw his wedding photos, he was shocked. His shirt collar was a sloppy, droopy mess. He does not like wearing ties, so he started looking for another solution.
He searched online but every existing product was a collar stay and that just didn't work. He set out to make his own solution. His first prototype was made from a cardboard box.
He spent years developing the design, especially the material. One major challenge was he needed to find a plastic that could withstand dry cleaning machine temperatures (up to 700F).
We discuss his journey. He had a failed Kickstarter, he tried different marketing methods, and we talk about the patent process for him. If you are an inventor, this is an invaluable episode for you to check out, as Rob went through EVERYTHING to get his product to market.
You can contact Rob at [email protected]
Website: https://milliondollarcollar.com/
Freeeup Your Time – Nathan Hirsch – Ep50
We have hit 50 episodes of the podcast!
Nathan Hirsch is a serial entrepreneur, hiring expert, and the CEO of FreeeUp.com. He has hired hundreds of freelancers to build his companies and has been featured on over 100 business podcasts sharing his knowledge on hiring and entrepreneurship.
We talk about entrepreneurship strategies and marketing. Nathan has grown Freeeup.com with hardly any marketing dollars. Instead he has used word of mouth by being a guest on various podcast, including Entrepreneur On Fire.
He started Freeeup.com because he saw the importance of outsourcing tasks that are not his main skillset, and instead focusing on what he is best at. I often do this myself, as I outsource podcast editing, website work, and other tasks that are not related to engineering.
To contact Nathan:

Million Dollar Side Hustle with a Full Time Engineering Role – Tony Whatley – Ep49
Tony Whatley is a mechanical engineer from Houston, Texas. He is also a serial entrepreneur.
Since he was 18 years old, he has worked in the oil and gas industry. He started out as a pipe fitter. He earned his college degree while working full time in the oil and gas industry.
Tony has worked his way up into a project management role. But during all of this, he always had a side hustle. His most successful side hustle was a website about cars, specifically GM aftermarket parts. The site had so many visits that it was generating $400,000 a year in recurring revenue. He sold that website in 2006 for over $1 million.
Tony gives some great tips about taking your dream and making it a reality. He is moving into consulting to help other people achieve success like him.
You can contact Tony at 365driven.com.
All about Drones – Johnny McLendon – Ep48
Johnny McLendon is a Photographer and Certified Drone Pilot. He uses a Phantom 4 Pro.
He uses his drone for creating maps and videos for large industrial facilities.
We discuss the technical aspects of drones. I don't personally own one, but I have some friends that do, and I have seen them in action. I'm impressed with how stable the video is and how they can float in one place. One interesting fact I didn't know: Drones needs GPS to maintain location. If GPS is unavailable (like when flying inside), you will need to manually maintain the position.
We also tie in 3D printing to the conversation. Johnny can create 3D contour maps from the data the drone collects. This can be used to 3D print a scale model of the land.
To contact Johnny:
Website: https://johnnymclendon.com
Email: [email protected]
Low Filament Alarm Invention and other 3D topics – Michael Graham – Ep47
This week my guest is Michael Graham. He is an engineer with HP, working on the multijet fusion printer. In his spare time, he works on his own inventions using Cubify Software and a Prusa i3 printer at home.
I found him when I was looking for a solution to knowing when my filament was about to run out mid print. He invented a low filament alarm. Here is a link to it:
https://engineerdog.com/store/low-filament-alarm/
We discuss that invention and then move into many other topics about 3D design and 3D printing. I hope you enjoy it.
To contact Michael:
Open Source SLA 3D Printing – Dean Piper – Ep46
This week my guest is Dean Piper. He is the founder of mUVe 3D, which is the manufacturer of open source SLA printers. The website is muve3d.net.
I have quite a bit of experience running the Form2 resin printer for over 6 months now, so this conversation was very interesting to me. We talk in detail about DLP versus laser printers. We discuss why SLA printing seems to be more reliable than FDM printing (this is my experience).
There is a lot of technical talk in this conversation, which I think many of you will enjoy. We also cover Dean's background and how he started the business.
I'm very tempted to purchase one of his machines and I may do that in the future. I'll be sure to make a podcast out of my experience if I do.
To contact Dean:
Medical Applications for 3D Printing – Jan Witowski – Ep45
This week my guest is Jan Witowski. He is a medical student in Poland and has taken the lead for developing medical applications for 3D printing in his university. The main application so far has been for surgeons working with liver surgery.
We talk about how he creates the 3D files using CT scans. This was very interesting, as I had no idea a CT scan could create a 3D image. Jan then uses Blender to assemble various parts so the models can be printed in separate pieces and put together.
We discuss the importance of working with open source software (like Blender) and using lower cost 3D printers (Ultimaker 2 for example). While there are others out there making 3D printed parts for medical applications like him, they are using much more expensive software and printers.
We also touch on Bio-printing, which is printing living tissues.
You can get in touch with Jan on Twitter: @JanWitowski
Or his website: http://jwitowski.com/
Improving the Education System with 3D Printing – Brian Federal – Ep44
This week my guest is Brian Federal. Brian is a Futurist, Keynote speaker, Filmmaker, and Designer.  He has two companies: Prana Communications and Innovative GlasDesign
Brian spent a lot of time in the past few years interviewing leaders in the 3D Printing industry and has nearly completed a documentary film about 3D printing. We discuss his journey on how he started that project and what he learned along the way.
Then we move into a discussion of how 3D printing, robotics, and AI can improve the education systems, as well as how these 3 areas will change the business environment.
To contact Brian, please go to his Linkedin Page
3D Printing for Investment Casting – Jerry Lepore – Ep43
This week we have Jerry Lepore. He is the CEO of Spectra3D, which is a 3D focused development company located in Asheville North Carolina (my home state).
Spectra3D specializes in 3D printed investment casting patterns and tooling, as well as Cosplay props & more. They use Stacker and Fusion3 Design 3D printers.
Some topics discussed include:
How 3D printing for Investment Casting works. 3D printing is using a new technology to improve the process of an ancient technology like investment casting
His largest ever print job (1800 pieces and it took a month to complete, running nonstop)
3D printed 5 foot cos play axe
His top tips for the Engineering Entrepreneurs?
Get a 3d printer and try things
Take your hobby and turn into a business
To contact Jerry
Follow on twitter: @spectra3Dtech

3D Professional Networking – Chris Kaminsky – Ep42
Chris Kaminsky runs  MI3D.co, which is a professional networking association focusing on all things 3D. The group is located in Grand Rapids, Michigan. Chris is a Mechanical Engineer by degree, currently working for GM.
He started the MI3D so he could get together with other 3D printing enthusiasts. They meet once a month and have had guests such as reps from Ultimaker, Autodesk, and more.
We talk about how he came up with starting the group and his future plans for the group. Then we move into some 3D printing projects he has done (like making molds for chocolate).
His number one tip for the engineering entrepreneurs: Get to know people. Even if the meeting isn't what you wanted.
To contact Chris:
YouTube videos about the group (including meetings):
https://www.youtube.com/channel/UCX-HdXIZVFTNEGFyzPLrOog
Website (including blogs about events): www.mi3d.co
Email: [email protected]
Personal site: www.criscodesigns.co
Fusion3 F400 3D Printer Review – Ep 41
This week I will do a review of one of my 3D printers. The printer is the F400 from Fusion3. Fusion3 is a relatively new and small company based out of NC. The F400 was my 2nd 3D printer I purchased.
My first printer was a Cube3 from 3D systems. That machine was so bad that 3D Systems does not even sell it anymore, but it did teach me the basic of FDM printing. I consider the F400 my first "real" 3D printer.
Before I get into what I like and don't like about it, I will first explain a little about this machine and why I decided to purchase.
I purchased this machine is August 2016, price was approximately $5000, I think just a little under. The machine is a FDM type printer and has a build volume of 14" by 14" by 12.6" tall. At the time of purchase, I really needed a machine that could make big parts and this seemed to be the best one I could find under $10,000.
So, what do a like? Here is my list
It is a big machine, and that's crucial for my business. I get inventors who come to me all the time with product ideas in the 8-12" range and most FDM printers are not quite big enough.
It is FAST. I run this machine all the time at 6000mm/min, and never really have issues. Of course, that is material dependent (tip: don't try running flexible filament that fast)
It can run any material up to 300C glass transition temperature (i.e. melting temp). This means I can run basically any common or exotic material.
It has an enclosed build chamber. This is extremely important if you use ABS filament. One of my other FDM machines is an Ulitmaker2+ extended (let's call it the UM2). While I like that machine and use it often, I have found that I can only run very small parts in ABS on it. Why is that? Well ABS plastic tends to warp a lot. The reason is because it shrinks a lot as it cools. Therefore, you need an very hot (100C) environment the entire time it is printing, or some areas of the part will cool before other areas. If that happens, the parts will often crack. So I can get away with small parts on the UM2 because it is near the bed, but a tall part will not be near the bed, which is kept hot at a constant 100C. On the F400, since it is fully enclosed, the heat is maintained throughout the entire part.
Lastly, the customer service is awesome. I heard it was good before I ever bought from the, and I knew I needed that because if you buy a 3D printer, you have a lot to learn to get it right.
What don't I like?  Not much but I had one MAJOR issue at the start that I can't leave out.
This story goes way back to August 2016. The first 3 months I had the machine, I didn't have a lot of issues. But then things changed.
A lot of the issues had to do with clogged nozzles and jams. One thing that is important with 3D printing is that the bed is very level and the gap between the nozzle and the bed (called the Z gap) is just right. I just kept having problems, no matter how many times I went through both the level and Z gap process. It was really confusing and both me and the support guys couldn't really figure it out.
I even went as far as renting a van, packing the machine into it, and driving 2 hours north to Greensboro for them to troubleshoot it right there. That took basically an entire day and cost me a few hundred dollars to rent the van.
Not a week after I got back home, it started acting up again. A month later, they agreed to completely swap out the machine for me. I just paid the shipping on the new one. I want to say this was around December 2016.
For the new few months, I would still have intermittent issues with the new machine. I was extremely frustrated and I estimate I spent 200+ hours of my time in total troubleshooting it.
I did ultimately get everything to work, and the machine has been nearly flawless the last 5 months. What I think did it was the light sensor. The light sensor is on the moving hot end and it basically live calibrates the level of the bed as it prints. I think this part was the culprit the entire time I was having problems, possibly with both machines. It is ironic that I basically tried everything else that support and I could think of before finally replacing this part. Ever since I replaced the light sensor, I really haven't had any issues.
That wraps up my review of the Fusion F400. In summary, I think it is a great machine, albeit a little pricey compared to other FDM printers. I think also a lesson learned here, is that 3D printing is tricky and sometimes you will just get unlucky and have an issue like this and try all the wrong things before you finally try the right thing.

3D Printed Miniature Roller Coaster – Coaster-track.com – Ep40
Lee Williams and Steve Guilmetter are the founders of coaster-track.com. Their invention is a miniature roller coaster that consists of mostly common hardware parts but also some 3D printed parts. The coaster is a fully functional mini replica.
Both Lee and Steve are mechanical engineers that have a passion for roller coasters. Their business plan for this is to make 80% of it open source. Meaning, they will give away 80% of the information needed to build a track. The only thing you will need to purchase are the rail ties and the car. Right now, they are 3D printing these 2 components.
Their next step is to launch a Kickstarter campaign. Their goal is to raise $50,000 to pay for injection molding tooling for the rail ties and maybe the car. The campaign will launch September 5. I will send out a link once I have it.
We discuss their background, the inspiration for the coaster, and how they went about designing and building it.
To contact Steve and Lee, check out their email, website and social pages listed below:
https://www.facebook.com/coastertrack
https://www.instagram.com/coastertrack/
https://www.youtube.com/channel/UC1wLoUyisLIJcjESbwpXcZw
https://twitter.com/coastertrack
3D Printing Video Game Cases – Justin Shook – Ep39
Justin Shook was featured on episode 3 of the podcast and he is back, just about 1 year later. Last time we talked, he was running his business Shookideas.com. Me and him were both basically doing the same thing, running a product design and 3D printing service company.
He has shifted his focus to a new business. He is now running a very successful 3D printing manufacturing operation making products for fans of old school video games. His business specializes in the making cases specifically for the Raspberry Pi computer. A lot of the cases look like old video game systems like the SNES, Nintendo 64, etc. His business website is https://collectorcraft.com/.
I think Justin is at the forefront of a shift in manufacturing. It used to be that 3D printing was used only for prototypes. Now it is used to manufacture products in serious quantity and Justin has taken this farther than anyone I have ever talked to.
If you would like to reach out to Justin, you can go to his website.
Inventing his own 3D Printer – Julian Merghart – Ep38
Julian Merghart is the founder of Blackened Industries (inspired by the Metallica song). His company sells CNC cut aluminum phone cases. I've never see that before.
He also started and is still working on his own 3D printer. He desired to make his own printer after being disappointed with the size of the desktop Makerbot Clone he had. He looked at larger 3D printers but the price point was too high. He has put his design (in STEP format) available for download on his site. He is still working on finishing the design and 1st prototype.
You can contact Julian at:
The Window Wizard Invention – Robert Bowerman – Ep37
Robert Bowerman is the inventor of the Window Wizard, which is a tool to line up window frames and curtain rods to make sure they are level. The product is quite simple, but like any product, the process of getting it finished for sale is not simple.
Robert hired my company off of Thumbtack.com and from his sketches and information, we were able to make a CAD file of the product and 3D print a prototype. At that time, the product was a 2 piece design that slid into place and was glued to stay. It was originally made that way because the idea he had was that the injection mold would be too expensive if it was made in one-piece due to the size of the mold.
After meeting with one of my molding partners (PDQ South), we determined that indeed a one piece product made more sense. I updated the CAD file and the tool was made. Robert just got his first pieces from the tool and a little more touch up work is needed to be 100% ready.
Check out Robert's product on his facebook page and website: https://www.facebook.com/windowwizardtool/
To contact Robert: [email protected]
Key Takeaways
Mold process can take a long time
Even simple products take iterations to get just right
Bottle Cap Light Up Invention– Bart Briggs– Ep36
Bart Briggs is currently an engineer for Newell Brands (formerly Newell Rubbermaid). Like myself, he graduated from Virginia Tech (he got a degree in Engineering Science & Mechanics (Concentration in Biomechanics)
After college he took a job with Halliburton, but despite excellent pay was experiencing job burnout. He decided to take a 40% pay cut to do what he really loves, which is design engineering. He says he is very happy with the decision.
In addition to his day job, he has a light up bottle cap invention that he is working on. It is patent pending and we discuss the next steps to the design and bringing it to market. I've helped him a little bit with the design.
Key Takeaways
I like Bart's advice about not always following the money. Do what you love
Having a side project can lead to bigger things
To Contact Bart
Integrating 3D Printing into Video Game Design– Amie DD– Ep35
Amie D Dansby (she goes by Amie DD) is a software game programmer, previously at Marvel Studios, working on Captain America and other titles. She then transitioned to Research and Development working with the PlayStation and Xbox. Currently she works at ATAT Tech, a robotics, augmented reality video game studio in Dallas, TX.
She went to school for game simulation and programming. We talk about how the video game industry has changed from writing games in code to now mostly being done in programs like Unity3D (using a graphical interface).
Then we turn the conversation into how she uses 3D printing for interactive video games. I didn't even realize this, but now there are video games that integrate physical objects. For example, in this LEGO game, you have to first build the structure, then use your phone/tablet to scan it and the same structure appears in the game. Really cool stuff!.
She is using 3D printing at her current role in ATAT to create physical prototypes to test this concept on their games.
Key Takeaways
Not a bad idea to get a kit (build your own 3D printer) – to really learn how it works. However, it will take up a lot of your time from what I have been told
I think dabbling in code (or using a program like Unity3D) is good. Learn how these virtual assets get made. Sort of like learning CAD.
To Contact Amie
Twitter @amiedd
Unique 3D printing innovations (like printing furniture) – Eugene Pentland – ep 34
Eugene Pentland runs Pentland Designs (as a side job), a company that uses 3D printing to create every day mechanical solutions. He has come up with solutions like a quick access wallet, a solution to never needing to tie your shoes again, or sorting your spare change.We discuss his role at Pico Turbine (his full time job) where they use 3D printing in a wide range of applications, like coming up with unique solutions for disabled kids at a rehab facility.We also talk about a large format 3D printer that is used to 3D print office chairs (it uses a massive nozzle diameter of 3mm).Some other areas touched on:Eugene's invention: shoe lace lockWhat software does Eugene design in? – Mainly,  Autodesk fusion 360 but he also has used Solidworks and Creo parametricKey Takeaways

At the beginning of our conversation, he warns about getting a low end 3D printer. There will probably be issues. But if you have time, it can also be a good way to learn the machine from having to do repairs
3D printing is great for problem solving. He has invented 5 or so products that solve some real problems, like the joystick issue and the shoe lace issue. The coin sorter solution on his youtube page is quite impressive.

To Contact Eugene
How to Validate Your Product Idea – Daryl Gibson– Ep33
Daryl Gibson is a thought leader and consultant in future trends, lean startup/agile methodologies, and building cultures of innovation. He is a serial entrepreneur, having start multiple businesses. His current project is InnovativeX, which is a site that provides the tools and resources to enable anyone to develop an idea from concept to market.
We explore his business with a few examples in the product development space. First, we discuss his idea of a board game that teaches the players the product development process. Then we discuss my product, The Selfie Glove, and what I have done and what I should do to continue market testing.
Key Takeaways
No matter how good you think your invention is, you need to go through the validation phase of product testing
I always assumed you needed to get sales right away to validate a product idea. But Daryl points out that you can give away samples and still test. If you give out samples and people say "hey where can I buy this", then likely the product will be worth pursuing.
To Contact Daryl
Pushing the limit of 3D printing and trying new 3D Printing Filament – Matthew Gorton– Ep32
Matthew Gorton is Mechanical Engineer who has transitioned from employee to entrepreneur. For many years, he worked at WL Gore, in both Arizona and Delaware. (WL Gore is best known for the Gore-Tex Brand). As an aside, I also worked there as a summer intern in 2006.
Matt has since left that job to pursue his passion of 3D printing as a full time career. His business is PrintedSolid, which is both an online and brick and motor 3D printer retailer. He sells many desktop 3D printers and materials, mostly the ColorFabb brand.
We discuss his transition into entrepreneurship. Then we get into a lot of 3D printing details and details on new materials for 3D printing. We also discuss a new metal desktop 3D printer.
Key Takeaways
Matt followed his dreams through and the business is succeeding. Don't doubt yourself when you want to pursue your passions.
While we discussed many aspects of 3D printing, one of my big takeaways is how many different materials there are and that I need to experiment with more materials like he is doing.
To contact Matt:
Working as an Engineer for Caterpillar and Rubbermaid, and Creo versus Solidworks – Jon Klinger– Ep31
Jon Klinger has worked in the past for Caterpillar and Rubbermaid (now called Newell Brands). He has designed many interesting products, including edge belt conveyors, thermo-formed polycarbonate doors for the Skid steer D series, and Rubbermaid Fast Track parts.
Jon also is now working for me part time. In addition to his work history, we talked about the differences between Creo and Solidworks (both are 3D modeling programs).
Key Takeaways
Jon has worked on many different types of products, made from different manufacturing methods. This makes you a better designer and engineer to have a diverse background.
He also has learned many programs including Creo, Solidworks, and Ansys.
To Contact Jon
Former IDEO Mechanical Engineer turned Startup Freelance Consultant – Jen Davis-Wilson– Ep30
Jen Davis-Wilson worked for 12 years at IDEO. Since then, she has gone off on her own to be a startup freelance consultant. She typically works with clients in the San Francisco (Silicon Valley area).
While Jen and I are both Mechanical Engineers, our careers and the way we go about creating client projects is quite different and it was interesting to hear a different perspective on the process.
Some of the highlights/links we discuss:
Industrial design versus Engineering
Her work with Magic Instruments on a cool new guitar product to help beginners learn guitar
How to test products? Make a rendering and put a product on ebay, kickstarter, etc. Also, 3D print a product and put on the same websites Examples:
Key Takeaways
It was interesting to see how Jen's process is compared to what I am used to. She tends to work with bigger startups than my company and as a result seems to have a bigger team on her end, often backed with IDEO employees.
It was also interesting to discuss the Solidworks work flow versus Industrial design CAD tools. While I prefer Solidworks because it is easy to update a file, I can understand why some designers work in other programs that are not parametric. And from my experience, some shapes are easier in other programs like Blender (and Jen mentioned Rhino).
We had a good discussion about product testing. Some companies will make renderings to see if people will buy a product before it is made. However, traditionally big companies will use focus groups and interviews.
To Contact Jen
Selling Old VCR tapes, Selfie-Glove Discussion, and other side hustles – Shane McLendon – Ep 29
Shame McLendon and I connected when he found my CADdesignhelp.com Facebook page. He was looking for guests on the Built in a Day Podcast. I went on the podcast and talked about product testing with the Selfie-Glove. This was in the fall of 2016.
Shane and I hadn't talked in a while, so we did a podcast to catch up and throw around business ideas. Shane has quite a few side hustles, mostly as a copywriter. His current project is Theboxcrusher.com, which is a website to give blue collar workers ideas of how to get more customers for their business (think plumbers, welders, lawn mowing).
We also through around ideas on other products that might be good for me to make. The trick I have found about selling online is that you need to offer something a lot of people want. One big hit I have had is the Led Zeppelin object. We discuss some other products that might be good.
Key Takeaways
Have a big list of ideas to try. You really don't know what's going to work until you try it. Who would have guessed that old VCR tapes would be popular?
Look for gaps in the market. I think Shane is onto something with his com website. There is an opportunity to teach blue collar workers concepts like the lean startup method.
To Contact Shane
Go to his website: Theboxcrusher.com
Talking Product Design with a Stanley Black and Decker Engineering Manager – Terry Gonzales – Ep 28
Terry Gonzales is currently an Engineering Manager with Stanley Black and Decker in Southington Connecticut with hand tool and auto mechanic group. Terry was my first boss at my first job out of college. That was at United Pet Group in Blacksburg, VA (we called it Tetra because that was the main brand).
It was great catching up with Terry. We hadn't really talked for a while in years. Both of our careers have gone different directions since our Tetra days. While I have gone the entrepreneur route, he has done a few different things and we discuss it. He started out in product design, then worked as sales engineer, then as a manufacturing engineer and now he has come full circle back to his passion, product design.
This is a great episode for anyone thinking about engineering as a career. You get a great feel for what you can do in the working world.
And of course, we talk about some 3D printing!
Key Takeaways
Don't be afraid to try new things. Terry went from Tetra to Trimech because of his skills in Solidworks. The work was different but you never know what you will like doing until you try it.
Terry was spot on about the need to practice your 3D modeling. I would say it took me a full year at 40 hours a week before I felt like I had mastered Solidworks.
To Contact Terry
Email: [email protected]
Stepping up your CAD Design Business – Scott Hoffman – Ep 27
Scott Hoffman is the founder of PepperNickelDesigns, a CAD design and 3D printing service. Scott's background is in electrical and computer engineering. He works full time as an insurance adjuster but he started PepperNickelDesigns as a side hustle that he wants to bring to a full-time job in 2017.
We connected on the Facebook page for the Side Hustle Show (http://www.sidehustlenation.com/). He posted on the Facebook page that he had issues with either too much design/print work coming in at once or not enough. This is an issue I am very familiar with, as I have been running my business full time for 2 years now. I replied to his post and offered him to come on the podcast so that I could help him with the strategies of how to solve some of these issues.
(Side note: I was a guest on the Side Hustle Show in June 2016. If you want to hear that interview, click here: http://www.sidehustlenation.com/listener-success-story-took-side-hustle-full-time/)
Key Takeaways
The secret to starting a side hustle is to take a skill you have and find a way to monetize it
My advice to Scott was to use contractors to handle overloads of work
And when work is slow, there are a few strategies

Make cold calls for new business. Even better is to follow up with past clients to see if they have any new projects
Look for other revenue streams. One of my favorite ways when incoming work is slow is to work on new inventions. I have so many ideas but only so much time to work on them, so I use my downtime to create new products of my own. Sometimes the products sell and sometimes they don't. Even when they don't, I usually learn some valuable design skills in the process
To Contact Scott
Email: [email protected]
Tumblr: Peppernickeldesigns
Facebook: Peppernickeldesigns

The Big Bear Shelving Invention – Jeff Funderburk – Ep 26
Jeff Funderburk is the inventor of the Big Bear Shelf (bigbearshelving.com). Jeff was cleaning his garage one day and realized he didn't have enough storage space. He went to Lowe's to find a solution but all the products out there were very costly.
Jeff's solution was to create a "holder" piece that holds 3 two by four pieces of lumber. We discuss how he made some initial prototypes, came up with funding, found a CAD designer to help him create a plastic version for mass production and how the product is selling to date.
Key Takeaways
The key to any successful invention is to find a problem that the market doesn't already have. While there were shelving solutions, many were too costly for the average homeowner.
In addition, often the best inventions are the ones that solve a problem you have yourself.
It was smart of Jeff to test the product. He wanted to make claims it could hold a certain amount of weight for a set period of time.
To Contact Jeff
Email: [email protected]
Phone: 704-340-4262
CADdesignhelp.com Business Update – Scott Tarcy (solo episode) – Ep 25
I thought it was time to do a solo episode and talk about random stuff I have going on in my business. Some of the highlights include:
Projects
Brush butler – https://brushbutler.com/
Engineering challenges
3D printing – 4 or 5 different materials used for the prototype
Nearing completion!
Microphone handle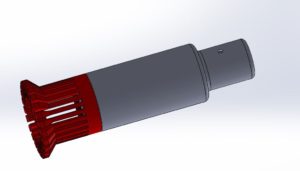 2 piece product
Threads and clearances, had to print a few times to get it to fit right. Check out images here. See the clearance between the red and grey of the section view when zoomed in?

Inventions
Selfie-glove – https://caddesignhelp.com/products-and-inventions/
Business stuff
Thumbtack overload in January. Bid on 10 jobs, got all of them
Time management
Looking for more help

Local employee going away for 5 weeks

Challenge of managing 4-5 people
3D printing
Fusion3 F400
Lots more maintenance but better for big ABS parts
Faster as well
Ultimaker 2+
Works great, but challenges with big ABS parts
Episode 24
3D Printing Q&A – Trey Sullivan – Ep 24
Trey Sullivan is from Louisiana and grew up on a farm. He learned a lot of hands on practical knowledge from fixing farm equipment. He started college after high school, but ultimately dropped out and worked most of his career as an insurance adjuster. He has now decided to go back to college (at 39) and this time is pursuing a Mechanical Engineering degree (which is what my degree is in).
Trey reached out to me as he has a lot of questions and wanted some advice about engineering and 3D printing. He asks a lot of great questions and I think that if you ever wanted know the basics of how 3D printing works, this is the podcast for you.
Key Takeaways
First, hats off to Trey for going back at 39 years old to get his college degree. It's never too late
We talk SLA versus FDM. FDM printing is generally what you will see in colleges, makerspaces, etc. SLA is different and uses a liquid resin that is cured by light.
3D printing versus 2D printing. My opinion is that 3D printing will never take off like paper printing (in the sense that everyone will have one at home). We discuss why I think that.
To Contact Trey
Facebook – Trey Sullivan
Email

[email protected]
Episode 23
From Chief Rail Engineer to Engineering Leader– Pat Sweet – Ep 23
Pat Sweet has worked most of his career as an engineer in the rail industry. After reading the 4 hour workweek and some other entrepreneurship books, he got the inspiration to start some side hustles.
He taught himself how to build websites and still creates websites as a side business.
Another action he took was to create his own website: Engineeringandleadership.com. At first he created it because he enjoyed writing about engineering and leadership, but the site rank has grown and he has been able to monetize it.
We talk about his journey, how to validate a product, and where he sees his future: as a product consultant. You might just want to hire Pat as a consultant on your product! He knows his stuff.
Key Takeaways
Portfolio career- you don't need to work your whole career for one employer
How to validate a product – doesn't always have to be the final product to test an idea
To Contact Pat
Twitter @engileader
3D Print the Future TV show
We are still looking for more guests but spots are filling up. Please contact me soon if you have interest in being featured on the show. You can email [email protected]
Please see details here: 3D Print the Future TV Show
Episode 22
The KING of 3D Printing (in Michigan) – Jonah Dorman – Ep 22
I can't give him the title of "King of 3D Printing in the World", but I will give him the title for Michigan. And for good reason….read more below
Jonah Dorman is the owner of SOC3D, which is a 3D printing company based out of Grand Rapids, Michigan. His company has the most reviews on 3D Hubs (think of AirBnB for 3D printers) in the entire state of Michigan. They have 35 3D printers in use, which is truly amazing.
I learn a lot myself on this call about 3D printer filament formulation, how they actually make printer filament, how to run parts fast, and we discuss all my headaches with my 3D printer I've had lately!
Key Takeaways
ASA is going to be the replacement material for ABS. ABS was never created for 3D printing, it was made for injection molding.
Jonah is probably the first person I have seen that has so many different printers (and types of printers) that he can fully optimize for any type of part. For example, tall but skinny objects are perfect for a delta printer.
To Contact Jonah
Call him 727-386-6825
Since we talked about 3D hubs, I figured I might as well share my link in the show notes (honestly don't know why I never thought of that before)
Episode 21
Talking 3D printing with Walt3D – Brian Walt – Ep 21
Brian Walt is only 22 years old but already is a business owner and entrepreneur. He started Walt3D, a 3D printing and manufacturing services company based out of King of Prussia, PA. We connected over Instagram, as we both often use the #3D printing (you can follow me on Instagram @caddesignhelp).
We talk about his story on how he got into 3D printing. We talk about the Pro Putt, a golf training product he helped design and prototype. Then we discuss the 3D printers he uses and the ones I use. We talk a lot about 3D printing, so be sure to check this one out if 3D printing interests you.
Key Takeaways
I was impressed Brian started this company before even finishing college. If you find a passion, no matter your age, you can turn that into a business
Brian gave a great piece of advice about 3D printing, which is that there are so many ways you can use it. If you want to get started yourself, pick a market you like. Then if you want to get a machine to make parts, make sure the machine can make the parts you need. Some of the less expensive machines may not necessarily get the job done. You can always reach out to me at

[email protected]

and I can help you out.
To Contact Brian
Email [email protected]
Website Walt3D.com
Instagram @Walt3D
Links discussed:
Episode 20
The Perky Collar Invention- David Frankel – Ep 20
David Frankel is inventor whose background is in sales and marketing. He found a need himself to keep a dress shirt collar upright when he is not wearing a tie. After finding a makeshift solution (his daughter's headband) for the sales meeting he was about to have, he knew he was onto something. He took the idea from that initial handmade prototype to a final product that he is selling online and in many retail stores.
We go into depth about all the stages of getting the product from his initial idea to the final product with packaging.
Key Takeaways
David knew he had to go "all in" if he wanted his product to be a success. While he did some market research, in the end he had to go with his gut feeling that the product would succeed and invest quite a bit of money to get it fully developed
Don't underestimate the value of a well-designed package. In my opinion, I do not think David could command a $20 price point for his product if he did not have a well-presented package to portray the value of the product.
To Contact David
Links discussed:
Email: inf[email protected]
Website: perkycollar.com
Phone: 704-839 – 1169

Episode 19
Designing on Stage Machinery for Lady Gaga Performances and CES 2017 Discussion– Emanuel Moshouris – Ep 19
Emanuel Moshouris is a Mechanical Engineer working for Black and Decker. His background includes working as an engineer in both the automotive and entertainment sectors. If you ever wondered how the big-name artists create their elaborate on stage performances, you will want to listen to this episode. Really interesting stuff!
Emanuel and myself met at CES 2017 a few weeks ago, so the 2nd half of our discussion is about what we both liked the most at the show and where we see the future in technology. We talk a good amount about 3D printing and Virtual Reality (VR).
Key Takeaways
Emanuel has a goal in mind of where he wants his career to go. By looking at how others have achieved it, he has a game plan to follow
I like his tip about "list of stupid decisions". It is ok to fail, but it should always be your goal to not fail the same way twice
To Contact Emanuel
Linkedin: https://www.linkedin.com/in/emanuel-moshouris-54aa3052
Email: [email protected]

Episode 18
The Eggmazing Invention – Scott Houdashell – Ep 18
Scott Houdashell is an insurance salesman by day but an inventor at his core. One day he was decorating a hardboiled egg with his family and thought there must be an easier way. After some testing and trials, the Eggmazing was born.
I first connected with Scott when he needed his Sketchup drawings converted into Solidworks drawings. He has since already gone to tooling with his product and he had a successful Kickstarter campaign. He is on the verge of a big breakthrough and our conversation will show you how he went from an idea to a final product.
Key Takeaways
It was evident in my call with Scott that he has a support team of family and friends behind him. This can be key because of the substantial capital required to launch a product
Scott had a successful Kickstarter campaign by getting the word out about the product in advance
Scott wasn't afraid to do quite a bit of the design and testing himself before finally reaching out to me. That makes my job easier. So do as much design upfront as you can before reaching out to a pro
To contact Scott
website http://www.eggmazing.com/
Phone 806-584-5440
Links discussed:
Episode 17
Inventor Episode – Breast Pump Nipple Cushion – Tu-Hien Li – Ep 17
Tu-Hien is a mom who lives in Florida. She had her first child a few years ago, and found that using a breast pump was very uncomfortable.
She went online and couldn't find a product to solve her problem, so she set out to solve it herself. She created a Facebook group of moms to use as her focus group / testing group. She went through 41 iterations to come up with the perfect final product. Then she launched and completed a successful Kickstarter campaign to fund the injection molding tool.
We discuss all the steps she went through to bring her product to market.
Key takeaways
Solving your own problems is often the best way to invent something. The odds are that someone else has your problem
Try and try again. It takes many iterations to get it right. It took Tu-Hien 41 iterations to perfect her project.
Kickstarter is a great way to raise money for your project. But in order to be successful, you need to prepare in advance by building an audience for the campaign.
To contact Tu-Hien
Website: https://www.beaugen.com/
Facebook/twitter/Instagram : @BeauGenMom
Email: [email protected]
Other Links:
Original Yeti Plug Ebay listing
Episode 16
Get Recognized for Your Expertise- Carl Friesen – Ep 16
This week we have Carl Friesen. He is from Toronoto, CA and his background is in Journalism. He currently helps people get recognized for their expertise and helps authors get published.
Carl talks to me about how I can get more recognition in my field of CAD and Product Design. We talk about doing speaking engagements and writing articles on my field. While I already do both things, I can always do more and Carl gives me some great advice.
Whether you are a mechanical engineer, civil engineer, industrial designer or even an inventor, this conversation will really help you in your career to establish you as a though leader. That can make a real impact on your success!
Key takeaways
It is important to focus on the trade publications in your niche. While not a lot of people might read that magazine or blog, those that do read it are very interested in it.
If you want to show that you can get results for your clients, generate articles and do presentations on your abilities to solve their problems
To contact Carl
Thoughtleadershipresources.com

Episode 15
Everything you ever wanted to know about CAD  – Will Gibbons – The Engineering Entrepreneur Podcast 15
Will Gibbons is a Training Specialist at Luxion, the makers of KeyShot rendering software. He's got a degree in Product Design and experience in marketing, product design and development and visualization.
Will has experience in more CAD programs than anyone else I know. We discuss many of the different programs out there and give the pros and cons of each. I mainly use Solidworks so this conversation really opened up my eyes to the different options when it comes to CAD. If you currently use CAD software or are interested in it, you will find a lot of value in this conversation.
Make sure you stick around to the special section at the very end, Will and I go into some extra discussions on Z-brush (a program used to create these masks).
Key takeaways
There are so many CAD programs out there, that you need to pick the one or ones that best suit what you need
For beginners looking to get into CAD, start with Fusion 360 because of the cost and flexibility
To contact Will
Website: Willgibbonsdesign.com
Instragram: @Willgibbonsdesign
Email: [email protected]
Episode 14
3D Scanning – Andrew Bougie- The Engineering Entrepreneur Podcast 14
Andrew Bougie has a background in general IT and has (until recently) worked for a ScanSource, a company that sells 3D scanners. During his time there, he learned a lot about 3D scanning by getting hands on with the scanners and answering customer calls about scanner issues.
Andrew told me that he always wanted to own his own business and he had some side hustle jobs in the meantime. But he recently decided it was time to go full time with his knowledge of 3D scanning and start a business. With the help of a business partner, he started Digitizedesigns.com, which a service that provides 3D scanning services.
During our talk, we start with his journey so far. Then we move into the nitty gritty of 3D scanning. If you ever had any interest in learning about 3D scanning, then you need to hear this conversation.
Key takeaways
We went into a lot of the details of 3D scanning, but the main takeaway is that it is great for reverse engineering complex shapes, and is not hard as you might think. You just need the right tools and we discussed many of them today
Regarding starting a business, find a skilled business partner – you want some overlap so you understand each other but mainly you want to have a complimentary set of skills
To contact Andrew
Company website: Digitizedesigns.com
Twitter, Instagram: @AndrewBougie , @DigitizeDesigns
Introduction Episode
Episode 2
Rick Daley
Rick Daley is an expert industrial designer and part of my team at CADdesignhelp.com
Rick also runs his own design company at rdaleydesign.com
Rick has a background in designing juvenile products. Some of his past jobs included both working at Hasbro and Fisher Price. He later broke off on his own and has licensed 4 different toys that he designed. His most successful invention netted over $300,000!
We discuss how he achieved these license deals and he explains that you don't need to be an engineer to be like him and create something very profitable.
Episode 3
Justin Shook
Justin Shook is the founder of shookideas.com. His company manufactures products for others as well as products his company has designed. He is a firm believer in the power of 3D printing and all of his products are 3D printed. He currently has a lineup of Ultimakers and a Form Labs SLA printer.
We talk about how Justin started in 3D printing, how he has come up with unique products made with 3D printing, how not all products have worked out and his advice for other entrepreneurs who want to get into designing and selling products.
My key takeaways:
3D printing is changing the world with manufacturing. Look at his Nintendo game case as an example. If you want to purchase a case, go here: https://www.etsy.com/shop/ShookIdeas?ref=search_shop_redirect
Not all products will be a big hit nor will they all go the way you planned. Justin explained that one of his products flopped, despite testing on his end.
Be in business to be the best you can be at providing that product or service. Don't simply be the least expensive.
You can contact Justin via email at [email protected] and see his work at shookideas.com
Episode 4
Iain Power is a mechanical engineer with 20 years of experience in design engineering and entrepreneurship. He has worked in aerospace and automotive industries with experience designing plastic and metal parts.
We talk about how Iain got started in design, how he has expanded into freelancing and his best design to date which you affects your everyday but you probably have never even noticed it! Oh and it also helps the environment.
My key takeaways:
Be hands on and get to know the people who manufacture, and know the processes
Be willing to go the extra mile to get things done
Collaborate with people, don't compete
Use social media – people won't buy from you if they don't know you
To get in touch with Iain
@Iainspower on twitter, periscope
Iain Power design facebook page
Episode 5
This week on the show we have Josh Nicholson.
Josh is a cyber security engineer with 20 years of experience in information technology and cyber security. He is currently is working as VP of Phishme, which is a cyber security company
We discuss his best security design, how he got started in his career, his various entrepreneurial jobs, and his advice on how to advance your technical career with entrepreneurship.
Key takeaways
Starting with a technical background can really help you get to a high level in a company
Think about the business problem you are trying to solve, not the technology problem
To get in touch with Josh:
Phishme.com contact form
Find Josh Nicholson on linked

Episode 6
Chris Padgett is a mechanical engineer from NC state. He has 6 years of experience in 3D printing and has worked for defense contractors and in the enterprise mobility space. He currently works as the CEO and founder of Fusion3D printers.
We talk about how Chris went from his corporate engineering job to starting Fuison3D. He gives a history of his journey and some great lessons learned.
My key takeaways:
For some people, jumping straight into a project might be the best way. Especially if you are the type of person who likes to focus only on one thing at a time
Chris talks about luck, but I think you create your own luck. Work hard and be willing to pivot. Chris talks about having a strategy but be willing to adapt
Don't always need angel investors, self-funding still works
To get in touch with Chris
Email: [email protected]
Episode 7
John is a Mechanical Engineer from NC State with a passion for inventing. He has invented products such as wooden Chinese throwing stars, reflective address signs, special pressure washer nozzles, and a device for hanking rope (if you don't know what that is, then listen in!).
Key takeaways
Create add on features that improve your business efficiency – like John's pressure washing business. Plus, you can sell the invention to other businesses
Give a range in pricing like John did with his window cleaning company
Little giveaways and freebies can help – like the free window cleaning bottle
To get in touch with John
Email [email protected]
Episode 8
Joe Moya is an industrial designer by degree and is now a business owner. He runs Studio Moya, which is a full service product design firm based out of Columbus Ohio.
He also has created the Hilljak brand, which is a performance magazine loader.
We discuss Joe's journey to where he is today as well has how he invented the Hilljak line of products.
Anyone who is interested to learn how to successfully launch a brand (which is more than just a product) needs to hear this podcast! I learned quite a bit in my discussion with Joe.
Key takeaways
1. Before selling a product, it is a good idea to create a brand first. This is something I could do better. You need to create a logo and package to go with the product to create the brand.
2. I like Joe's tip to always stay hungry. Just looking at his story, you can see never gave up despite being laid off 3 different times
3. Lastly, keep your eye open for opportunities. Joe has created a very successful "passive" income source by solving the problem of reloading firearm magazines. Solving your own problem can often lead to a successful business.
To get in touch with Joe
[email protected]
[email protected]
Episode 9
Derek Timm graduated college with a degree in business. After college, he took a job as a paper pusher (his words) and was able to transition into a product designer/CAD position. He found his passion in design and his experience and expertise has grown since. He even started his own side business.
We discuss Derek's path so far, some projects we have done together, and where he is headed with his new company.
Key takeaways
1. Don't get caught up in your degree or what you are currently doing now. If there is another field or area of work you want to try, you need to go for it. You might just find it is exactly what you want to do
2. Consider taking an equity stake in your project if you think it is a good idea. This makes it easier than hustling for jobs constantly
To get in touch with Derek,
Derek's site: Rapid3Ddesigns.com
Full time job: Eventys and Edision Nation
Episode 10
This week we have Lyman Bishop on the podcast. Lyman is a mechanical engineering and entrepreneur. His background is mainly in weapons and defense (body armor). He runs both his own company for product design (www.star-labs.com) and he is in development of his own line of body armor after working for years in that space.
We discuss a story of how he got started as an engineer at 8 years old, how body armor is built (I learned a lot here), and the pros and cons of manufacturing in China. There is a ton of value in this episode so you don't want to miss it!
Here are my key takeaways
1. Count the costs – to see it all through. Both money and time costs to get your project completed
2. Guide your clients through the process
To get in touch with Lyman,
Website: www.star-labs.com
Email: [email protected]
Episode 11
This week is a little different. This week I talk about my recent invention, The Selfie-Glove. I started this project in August and I have just made my first 2 sales.
In this podcast, I talk about the lean startup philosophy and how I have applied it to this product. I discuss how I used validated learning to improve the product and find the right market.
I discuss how I came up with the idea, how I filed a provisional patent, how I made my prototypes, how I got feedback on the product and how I made my first few sales.
If you are at all interested in learning about how to invent something, you need to hear this podcast!
Here are the links discussed and how to get in touch with me to learn more.
my email [email protected]
blog to leave comments: Selfie-Glove blog
Lean startup: theleanstartup
Episode 12
This week on the podcast we have Louis Foreman. Louis is the CEO of Eventys and Edison Nation. His companies help inventors take their product to market.
We discuss Louis' background (he has 7 patents!), how he started his companies, and some tips. As with any entrepreneur, we discuss some successes and failures. There is a lot to learn in this podcast!
Key takeaways
Do a market feasibility of your product. You want to make sure you have the funds covered to get to the finish line. Lyman Bishop in episode 10 offered similar advice
Inventing doesn't have to be done on your own – Edison Nation offers an option to submit ideas for partnership.
To contact Louis,
Email: [email protected]
Twitter: @louisforeman
Episode 13
This week on the podcast we have Anthony Fasano. Anthony is civil engineer by background. He has shifted his career from practicing civil engineering to becoming an entrepreneur in a few different areas. He is the Executive Director for The New York State Society of Professional Engineers, he runs the Engineering Career Coach podcast, and he runs The Italian American Podcast.
Anthony reached a high level of management at his engineering company at the age of 27 but he wasn't satisfied with what he was doing anymore. We discuss how Anthony made his career change and how he found his true passion, which is helping engineers develop their career.
Key takeaways
The engineers that are successful have powerful core skills. Skills like effective communication and the ability to speak in front of people.
If you are going to be an Engineering Entrepreneur, technical skills are not enough. You must be able to network and market yourself
LinkedIn is a great tool to make connections. This is how Anthony got started with his coaching career
To contact Anthony
If you are an engineer looking for career help, go to Engineering career coach website
If you are an entrepreneur looking to grow a business, go to Engineered Content
Links
Check out when Anthony interviewed me on his podcast