I recently received a Calcutta Tumbler as a gift (it is basically the same thing as a Yeti Tumbler, which more people seem to be familiar with).
The cup works great on keeping your drinks cold, but I found one major flaw: there is a hole in the lid where water can splash out. I was walking around with my tumbler in my backpack and the water kept splashing out.
I designed and 3D printed this plug to stop this problem (see photo below). I measured the hole size and then tapered the side walls of the plug at 8 degrees so that it would press in place.
This last photo shows the plug in place. A simple problem solved by 3D printing!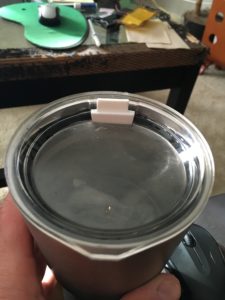 Update:
I have created a better version with a cord so you don't lose the part. You can purchase here on ebay:
Caclutta Tumber Plug with Cord