The pros:
3D printing can make any object that you can draw up in CAD. There are very few design restrictions but here are some recommendations. For example, I try to design with 45 degree angles under overhangs, so that no support material is needed.
See figure 1 for an example of this.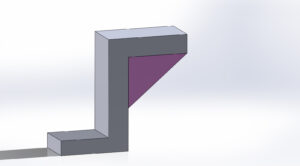 The purple area I added so that the grey overhang area above it will not require support material to be built. I could also print this on its side but I want to show this trick, so I assumed this build orientation.
Of course, sometimes design constraints will prevent you from adding this feature.
Another pro of 3D printing is the cost. It costs basically the same amount per unit to 3D print as it does to injection mold. Sometimes it can cost even less because a 3D print can be somewhat hollow inside, whereas a molded part must be 100% filled. Most 3D printers cost under a few thousand dollars so after some time, it can pay for itself.  A mold can cost the same or more than a 3D printer and it can only make the one object that the mold was made for.
Another pro: 3D printing can speed up product development. When you design a product, you can simulate the product performance in CAD but it's not the same as testing in real life. With 3D printing, you can rapidly make a prototype and test it out, usually within 24 hours.
Now for some cons of 3D printing:
Reliability: I've had mixed success with the reliability of my machines. For example, on my CR10 I must manually turn the right Z axis rod before each print to level the machine. This is supposed to happen automatically, and it used to when I first got it. But now it doesn't and there is no explanation for why.
3D printers will jam up all the time, for no apparent reason as well. One trick I have to keep a large supply of nozzles available so I can switch out quickly. Then after I have a bunch of blocked ones, I will use a blowtorch to clear them out. Figure 2 shows the nozzles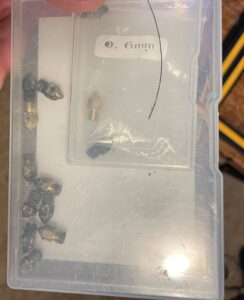 Speed of production: when It comes to producing many parts instead of one or 2, 3D printing is not the best choice. While a few parts won't take long, it could take weeks or months to produce 100+ parts. In this case, it is better to use injection molding.
Strength of parts: 3D printed parts are generally weaker than other manufacturing methods. The nature of fusing filament lends itself to brittle parts. Parts are stronger in the direction of the layers and weaker in the direction across layers.
Figure 3 shows this graphic.
POori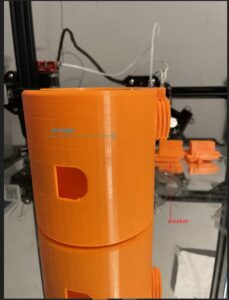 Originally written for Quora:
https://www.quora.com/What-are-the-pros-and-cons-of-owning-a-3D-printer/answer/Scott-Tarcy