3D CAD: Remodeling 

of the Furniture Manufacturing Industry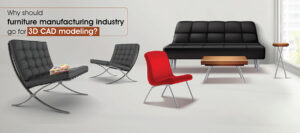 3D CAD modeling is fast gaining momentum across the furniture manufacturing landscape. Its ability to create virtual products, empower mass customization and optimize costs has captured acceptance from customers and manufacturers alike.
3D CAD modeling has offered numerous benefits to furniture manufacturing right from comprehensive designing to seamless manufacturing and from eased drafting to quicker elimination of kinks. However, that is not just it!   
Various stakeholders of the furniture industry have remolded their ways of functioning, collaborating and communicating with the advent of solid and surface modeling using 3D CAD.  
3D CAD Modeling
 –
 A
cake so big, every
one
 gets a piece
Back when 3D CAD modeling was still a novelty, not many could completely discern the scope of its utility. However, it didn't take long for the world to discover its far-reaching benefits across the spectrum.  
For D
esigners
Perfection in D
rawing 
S
cales
With manual designing, it's not easy to find and maintain the right scale measurements. CAD enables you to select the measurement units according to your requirements. This guarantees a significant increase in accuracy and precision. 
Once the modeling is complete, rendering 2D and 3D designs using CAD becomes a cakewalk and you can easily visualize the design from different viewing perspectives, fix the flaws in real-time and save on time and effort. 
Seamless 
R
evisions
A big chunk of project time is spent by designers on editing. Whether manual or digital framework, incorporating design changes requires you to constantly work at the model and revise it. 
Manual revisions require you to erase parts of the existing design and make changes. In some cases, you have to redraw the entire design, which is a time-consuming process. 
But with CAD, you can edit and modify the design elements easily without redrawing them from scratch with the right combination of a few clicks. Even with complex designs, a skilled CAD designer can modify existing shapes while rotating, scaling and stretching them without a single error. Additionally, the layout viewports help you see the model from different views. You can zoom in or out of the scale to view the design optimally. 
Organized 
D
esigns
Many times, instead of changing the entire design, you only need to tweak certain areas, without disturbing the rest of the model. However, with manual rework once a design is made, it is very difficult to make changes in it. You have to maintain different transparent layers of the model to depict information from different aspects. 
One of the biggest advantages of using parametric CAD is that you get to design your model in the form of different layers. Each layer is composed of different elements. Hence, it becomes easy when you want to edit a section of the model. That way, the model design is systematically arranged.  
For M
anufacturers
Leveraging 3D Modeling Re
ndering for Marketing and Sales
For your clients to understand your design, they need to see it through all viewing angles. For this, 3D modeling is the best choice. You can create 3D CAD solid models of your products, where the clients can rotate and zoom in to take a detailed look at the design before ordering it to be manufactured. They can enjoy the model using virtual reality and experience the product before they can invest their time and money in it.  
A survey done by Hubspot says that as much as 80% of today's internet traffic is video content.   
High-end lifestyle furniture manufacturers are increasingly using 3D CAD models to create product catalogue videos and illustrate how their products would elevate the overall visual appeal of space by rendering high-quality realistic pictures of their models. 
Following Industry Compliances
To develop the best quality furniture products you need to meet global standards and maintain high precision throughout. But many a time, as the product design development progresses from designing to manufacturing drawings, there is a deviation from these standards.  
In CAD, you get to develop the design digitally with a high amount of accuracy. It enables you to predefine the parameters like angle, border, font style and other formatting elements in your choice of dimensioning system. Moreover, it allows you to maintain symmetry throughout the entire product range just by specifying the dimensioning system you wish to use.  
Boosting 
S
ales via 
eC
ommerce
The eCommerce industry is as successful as physical stores across the globe. More and more people are warming up to shopping for furniture products online. Manufacturers can make the most of it by leveraging the power of highly realistic 3D product rendering and creating renders from multiple angles.  
The viewer can zoom in and rotate the image to take a detailed look at the product. This significantly increases the aesthetic appeal of your product and helps the customers visualize it better. 
T
esting the market
With the use of 3D modeling, you can have furniture designs that are less costly than physical furniture pieces. Moreover, there won't be any wastage of resources. The power of effective social media and advanced analytics can be harnessed by uploading high-quality 3D renders and making them reach millions.  
This can give you an insight into how the target audience responds to the designs. You can create the most liked designs and put them up for selling. Customers often look for customization which can be offered through designing before the actual furniture piece is recreated. 
Cost-Effective
L
ogistics
The stock management of modular furniture becomes easy with 3D modeling as you don't need to store every physical design in the stockroom. Instead, you can get the design recreated on the production line in case of any hint of rising demand. Storing your designs on a computer hard drive is much more cost-effective than storing physical furniture pieces in your warehouse. 
A furniture manufacturer from the UK partnered with Hitech CADD Services to create 2D CAD drawings & realistic 3D models of their products, along with manufacturing details. Hand drawn product designs and sketches were provided as inputs.  
Upon the delivery of drawings and models, the client was able to: 
R

educe transportation costs by 45% owing to the knockdown design approach

 

S

ave up to 30% on the inventory costs

 

S

ave 

60% on the design costs

 

S

horten design 

cycle by a staggering 70% due to 

offshore partnership

.

 
For C
ustomers
Better 
V
isualization
A major limitation of physical drawings is that your customers cannot zoom in and out of the designs or visualize the final product based on initial drawings. 
CAD allows you to play around with the model, zoom in from an angle of your choice and see how the design looks like. You can also zoom out and take a look at the entire design and rotate the design to look at it from a 360-degree viewing angle. This makes visualization a whole lot easier and smoothens the entire customer journey. 
Additionally, customers can view designs from the comfort of their homes and devices without having to visit the factory. 
Greater 
C
ustomiz
ation with 
P
roduct 
C
onfigurator
From the customers' perspective, arguably the most exciting technology that 3D CAD modeling has enabled is the product configurator. Product configurator lets the viewers put together a customized furniture product, by allowing them to select each and every aspect of the product- from the material to tapestry, upholstery and beyond. 
Since the configurator provides a real-time, 360° view of the virtual model, it rids the customers of any worries they may have about how the physical product may look. 
Furniture manufactures have been increasingly leveraging this tool by integrating it with their website. This allows the customers to assemble a product of their choice, add it to their cart and have it shipped to their homes, all within a span of just a few clicks. Buying and manufacturing quality bespoke furniture has literally never been easier. 
A leading furniture manufacturer from the USA collaborated with Hitech CADD Services to create a CAD product configurator for all their products, in order to boost their sales and spice up their marketing approach. Our expert CAD engineers converted the input 2D drawings into 3D models with the help of the manufacturing information and developed a CAD configurator to accelerate the 'time to market' for each piece. 
Once the configurator went live, the manufacturer was able to: 
R

educe the lead time from 4 to 5 days to 1 day

 

A

ccelerate 

the design cycle

 to make it 

70 times faster

 

E

nhance quality

 

S

ignificantly reduce 

mate

rial scrap during manufacturing

 
An Exciting Road Ahead
Since its application in the furniture manufacturing industry, CAD has provided a stimulus to the overall growth of the furniture industry. Although the proportions may vary, every retail furniture manufacturer around the world today leverages 3D models for design, manufacturing, marketing and sales.  
Furniture manufacturers are looking to team up with CAD experts to create detailed 3D models of their products and use the technology to market them extensively via design automation tools like the product configurator. Currently, with increasing advancements in artificial intelligence, AR and VR, applications of CAD continue to evolve. The day when we re-write the rules and turn unimaginable into reality isn't far.  
A
bout the Author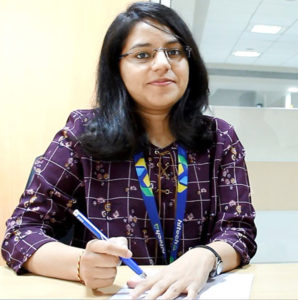 Usha B. Trivedi is an engineer at Hitech CADD Services, a provider of computer-aided-design services. She frequently writes about mechanical and industrial equipment designs, furniture designs and the fabrication industry for manufacturers, fabricators and engineering professionals.