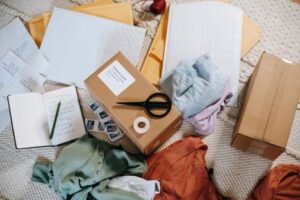 Image from: https://www.pexels.com/photo/set-of-packages-and-apparel-on-table-6347530/
Tips to Create an Eye-Catching Product Packaging Design
Product packaging design is not as simple as it seems. It is a product's public face, capable of eliciting a stamp of approval on your company's marketing efforts. When you fill retail shelves with visually appealing packages, you encourage consumers to buy your product. Indeed, the packaging is essential to a marketing plan that helps attract customers to your brand.
A unique product packaging design can help your brand improve its visibility. With that, here are some ways to develop an eye-catching design and entice customers to consume your products.
8 Tips for an Eye-Catching Product Packaging Design
Be practical
One of the most important things to remember when creating a product packaging design is the practical side. Before you start, you need to consider all the costs associated with creating and distributing your products, including production costs and shipping expenses. Your packaging costs may vary depending on your design's complexity and the materials used.
However, costing can help you create a budget that won't strain your finances too much. It may even give you more freedom when creating a custom design for your products, as you'll know what items you can use and let your creativity flow.
Conduct research on competitors' packaging
Another practical tip in packaging design is to gather insights from other brands' strategies. You can find inspiration by looking at your competitors' packaging and eyeing other companies that might be doing something unique.
Look at their color schemes, the text on their labels, and how they present their products. In particular, pay attention to what catches your eye. This way, you can try incorporating some of their ideas into your own that match your brand and design while also checking which aspects you can improve on.
Know what message you want to convey
Product packaging is one of the first things people see when browsing through shelves at stores or online. It catches their eye before even picking up a product, so naturally, it has to be visually appealing for consumers to notice.
However, there's more to product packaging than just looking pretty. It also needs to convey a specific message about your brand. You can include who this is for or reflect your company's values. Just make sure it adheres to your brand identity.
Think sustainable
Sustainability and eco-friendliness are working their way up the packaging industry trends with the ongoing global warming crisis. As such, try to find ways to make your packaging more sustainable. This approach won't only help the environment, but it will also help make your product stand out from the crowd.
You can do so by using recycled materials whenever possible. If you need to secure fragile products inside, try to look for more sustainable alternatives to Styrofoam or bubble wrap. Using renewable resources, such as wind turbines and solar panels, to power your manufacturing facilities is also an excellent move.
Use a cohesive color palette
Another way to create an eye-catching packaging design is to choose a color palette that reflects your brand's personality. For example, if you're creating packaging for a beauty brand, you may want to use bright colors such as reds and pinks or pastels like greens or blues because these colors are associated with beauty products.
However, make sure the colors you use complement and create a cohesive design. Here, you must have ample knowledge of color theory and navigating the color wheel.
Opt for interactive packaging
Interactive packaging has become widespread in recent years because it creates an emotional connection between consumers and brands through experience rather than just advertising. The age of technology has allowed the world to innovate efficiently. And product packaging is one of them.
When creating product packaging, don't just think about aesthetics. You must also consider how consumers will use the products. The goal is to create an experience that makes them want to interact with it, hold onto it, and even share it with others.
With that, don't be afraid to think outside the box and give your customers a unique experience they can find only in your products.
Create a unique design concept
In conjunction with interactive packaging, other elements of product packaging design can help pique your customers' interests. When designing product packaging, you don't need to focus on the outer surface of the box or bag alone. Instead, you may want to consider all elements that go into making it, too!
The inner surface should also be designed in such a way that it complements the outer shell. You can use different materials like paper and reusable plastic to create exciting textures on both sides of the package. This strategy makes your packaging more visually appealing than plain ones that don't stimulate consumers' visual senses.
Wrapping Up
Competition is stiff, requiring you to be creative, sensitive, and responsive to consumers' demands for quality product packaging. Do it right, and see your business pull through.